I am such a newbie for a skincare game. You know, all I knew just facial wash and eye makeup remover. I used to use random facial wash, and didn't have any particular brands or ingredients to be avoided. I think that was why I had a never ending story with dry and flaky skin, because later I know that SLS ingredients can break my skin badly.
Thank God, I join Female Daily Forum and read so many information about how to handle dry skin and acknowledged about the oil cleansing method.
Based on wikipedia:
The

oil cleansing method

, often abbreviated to

OCM

, is a system for cleaning a human

face

using

oil

(s).

Sometimes, oils can be mixed; one example is 50%

extra virgin olive oil

and 50%

castor oil

.

This mixture can be optimized based on

skin type

and personal preference. Oily skin can make use of a larger proportion of castor oil.

Other oils that are commonly used are

jojoba oil

,

sweet almond oil

,

coconut oil

, and

grapeseed oil

.
I also googled and I found this:
When massaged into the skin, oils in the cleanser bind to surface impurities [pulling out dirt without clogging pores] and allow them to be comfortably rinsed away leaving the skin clean, soft and hydrated, explained

Dr. Diane Walder

, a Miami-based cosmetic dermatologist. So, cleansing oil does not sink into your pores since it works to remove impurities and then gets washed away.

- Huffington Post
When I know how a cleansing oil could be a game changer for someone who have dry skin, I thought let's do this!
I decided to go for a very basic oil and have an affordable price: the
Extra Virgin Olive Oil
(EVOO). It can be found in any supermarket, I bought mine at Ranch Market not more than IDR 100K, I tried Bertolli and Borges both are very effective. Yes, these oils are actually for cooking (mostly for salad), but I swear they are good for the face too!
I use this oil every afternoon before washing my face. Everyday I wear moisturizer - sunscreen - foundation, so this oil helps to cleanse the dirt. A little tips: I refill the oil into a pump bottle for easiness sake. One pump is enough for the whole face. Then I gently massage it on my face except eyes, in a round motion, and leave about 5 minutes before washing my face with my dearly
Sunday Riley Ceramic Slip Cleanser
(should make a dedicated post for it, because I swear I LOVE it!). As a result my face is clean without tight stripped feeling and no more dry patches! I think now my face is looking radiant, not dull and more plumped.
Others say you can use extra virgin olive oil as a moisturizer, meaning to be used after washing the face. Or you can use EVOO as single cleanser: apply on dry face and wipe it away with warm clothes. I tried both ways, and failed! I saw some redness on my cheeks and I got acne on my forehead! So it's a no for me. I believe every skin has its own character, so get some trial and error. At least if you are not into this oil, you can still use it for cooking, right? Oh, I also use this oil as a hand and body oil. Talking about multi-purpose item! :D
-----
Another oil game for me is a
Virgin Coconut Oil
(VCO). Initially I purchased this oil for body oil, because I have dry skin, and allergic to some lotion. But when I applied on my leg, they become itchy. So did on my face, redness appeared on my cheeks. So I gave up, I stopped using it.
After some time, I was looking at Puchh's Instagram. Beauty enthusiast in Indonesia must know
her
. Stalk her and I bet you'll adore her! In her instagram, she posted about having an interview about her beauty secret (read
this
) and I know I have to be back using VCO again. This time as an eye makeup remover. And it works!
I put some VCO on my hand, and apply it directly to my eyes, massage it, so all the mascara and eyeliner are gone. And then continue to cleanse the face using EVOO. It feels comfort, no stingy feeling, no blurry eyes (just be careful not to get in the eyes) and it's so effective.
I order mine from
Blue Stone Botanicals
a Bali based company which using natural ingredients, including 100% pure essential oils.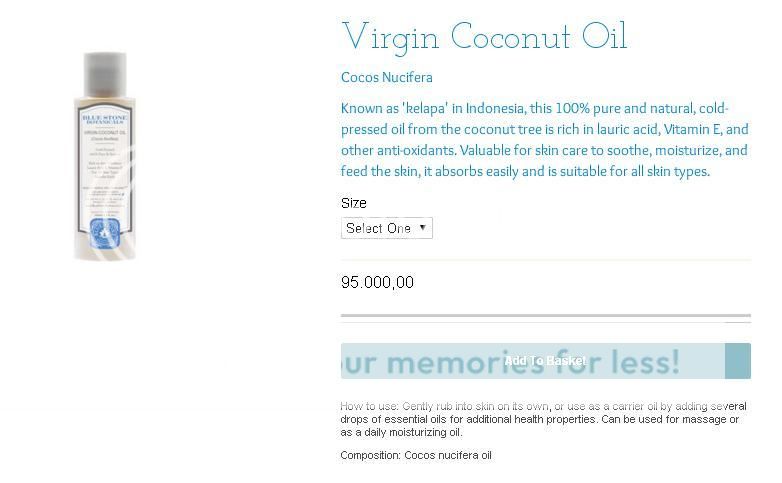 All in all, I am so happy with my oils. I really want to try another oils such as Castor Oil and Grape Seed Oil, but as far as I am concern I have better complexion now, and happy with it, so I think it might take some time to try another oils :)